NEWYou can now listen to Fox News articles!
President Biden continued to brag about gas prices falling by a small amount on Twitter Monday morning, to the mockery of users.
"For American families looking for a little more breathing room, these savings matter," Biden's presidential account tweeted.
The tweet also included a graphic informing followers that "At current prices, the average driver will spend $35 less per month for one peson [sic]" or "$70 less per month for a family with two cars than they would if gas prices stayed at their peak."
Social media users once again attacked Biden for attempting to take credit for lower gas prices while many still face near-record levels.
CNN ANALYSIS: BIDEN FACING 'MOMENT OF TRUTH' THIS WEEK WITH RELEASE OF CRITICAL ECONOMIC DATA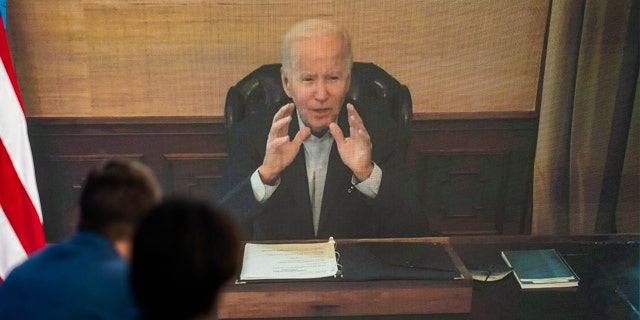 President Biden delivers remarks virtually during his meeting with his economic team to discuss lowering gas prices in the South Court Auditorium of the Executive Office Building on July 22, 2022.
(Demetrius Freeman/The Washington Post via Getty Images)
Washington Examiner and Daily Signal contributor Nicole Russell tweeted, "But I thought you had nothing to do with gas prices?"
Louisiana Sen. Bill Cassidy wrote, "In other words, Americans are paying over $100 more a month per 'peson' to fill up their gas tanks than when Biden took office."
Washington Examiner reporter Andrew Kerr noted, "The figures in Biden's tweet this morning assume the average 'peson' is consuming 50 gallons of gas a month per vehicle. 2 cars = 100 gallons of gas = $70 in 'savings' a month for the average American family, according to Biden's methodology."
"Now do prices compared to a year ago, snake oil salesman," Lone Conservative founder Kassy Dillon tweeted.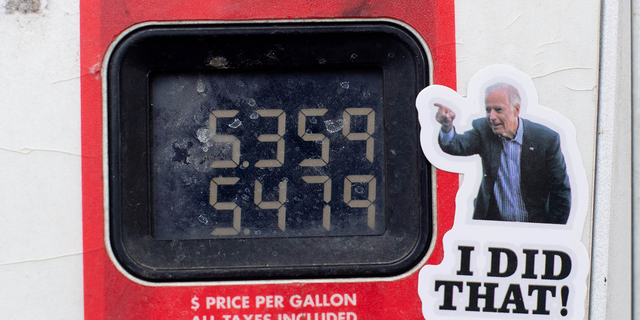 The Post found the stickers on gas pumps at a Shell Station.
(J.C. Rice/New York Post)
Biden had previously suggested that rising gas prices and inflation rates were caused by a "Putin Price Hike" due to the war in Ukraine. Since prices have fallen after their peak in June while the war rages on, the administration has started taken credit for the average price for a gallon of gas falling below $5. However, most states continue to pay more than $4 a gallon for gas, with the average price as of Monday at $4.36. When Biden took office on January 20, 2021, the average cost was $2.39 a gallon.
Many users also called out the blatant typo in the graphic, using "peson" instead of "person" in an official government tweet.
BIDEN MUST 'STOP THE FALL IN GASOLINE PRICES,' SET $5 GALLON MINIMUM TO COMBAT CLIMATE CHANGE: BLOOMBERG OP-ED 
"For one 'peson'? That's great. I hate paying too much for a peson! Peson inflation is a bane on the nation's economy!" Washington Times reporter Mike Glenn tweeted.
Townhall.com editor Rebecca Downs wrote, "Who spellchecked this…? What is a 'peson?'"
"How many people were involved in planning, designing, editing and sending this poster? Minimum of five, probably a lot more. Yet it still went out with a glaring typo. Tells you a lot about how this White House is staffed and run," tweeted Hans Mahncke, co-host of "Truth Over News" on EpochTV.
RealClearInvestigations senior writer Mark Hemingway wrote, "Could be overthinking it b/c competence is not a Biden admin strong suit, but what are the chances typo is intentional? A way of getting people to talk about the graphic? 'Stray voltage' and all that."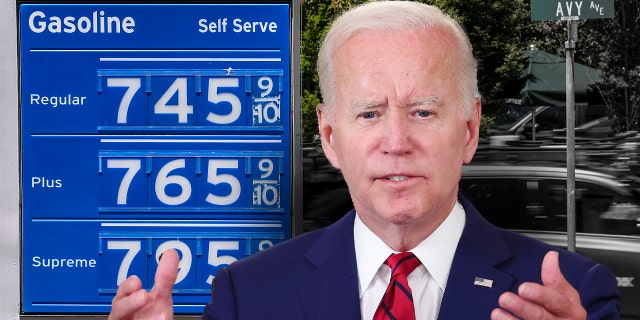 Fuel prices at a Chevron gas station in Menlo Park, California, US, on Thursday, June 9, 2022.
(Photographer: David Paul Morris/Bloomberg via Getty Images)
CLICK HERE TO GET THE FOX NEWS APP
White House press secretary Karine Jean-Pierre made a similar claim about falling gas prices on Thursday with a video on the White House Twitter account. She likewise ignored the fact that gas prices are still two dollars higher than they were when Biden took office.
Lindsay Kornick is an associate editor for Fox News Digital. Story tips can be sent to lindsay.kornick@fox.com and on Twitter: @lmkornick.
Affiliate disclosure: The links contained in this product review may result in a small commission if you opt to purchase the product recommended at no additional cost to you. This goes towards supporting our research and editorial team and please know we only recommend high quality products. Disclaimer: Please understand that any advice or guidelines revealed here are not even remotely a substitute for sound medical advice from a licensed healthcare provider. Make sure to consult with a professional physician before making any purchasing decision if you use medications or have concerns following the review details shared above. Individual results may vary as the statements made regarding these products have not been evaluated by the Food and Drug Administration. The efficacy of these products has not been confirmed by FDA-approved research. These products are not intended to diagnose, treat, cure or prevent any disease.